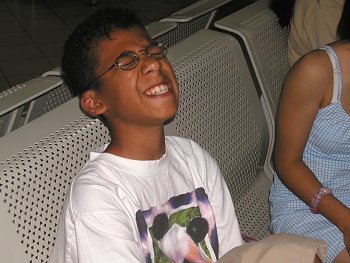 A late morning and time for returning to Beijing.
Lots of time for breakfast buffet and lots of time for syrup, pancakes and French toast.
Before lunch we visited a brand new shopping center which wasn't even finished. Dad bought some pants in one of the stores.
After lunch Dad got all dressed up and went to a meeting with some 80+ of his staff.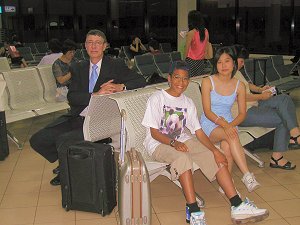 That was a great opportunity for some serious swimming in the hotel pool until we were picked up later by the office van. I went up to get Dad in his meeting and then we went to the airport.
The plane was delayed because of engine problems but we took off about 9 pm -an hour late. The picture shows how incredibly happy I was when I learned about the flight delay.
Liu Jian Ling again met us at Beijing airport and took my roller to the car and not Dad's!
Allan, Mary's brother, also met us at the airport. He'll stay for a few days.
We were very tired and went straight to bed after some snack dinner.