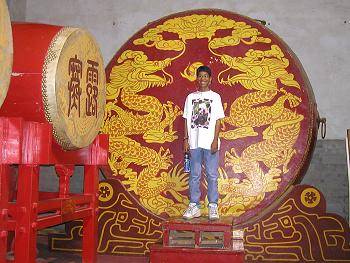 A day with very little on the program.
Actually there was really only one item and that was a rickshaw (a tri-wheeled bike where the biker rides two passengers around) tour to the old parts of Beijing.
It started at the Bell Tower where we had to climb innumerous steep stairs to the top (see picture of staircase). At the top we were amazed by the colossal bell weighing over 50 tons.
It used to sound the time for the Beijing people but is now only used at the annual Spring Festival. The bell can be heard 10 kilometers away.
Next we went over to the Drum Tower across the street. This time we had to climb another 69 very steep stairs to the top.
We took many pictures including one with me in front of the largest drum in the world and then attended the 11 am demonstration of the beating of the drums. The music that the drummers beat every day depends upon the mood of the day, which again depends upon the weather. Happy music on sunny days and sad music on rainy days.
Now the rickshaws rode us pass the beautiful lake to the hutongs. Hutongs are the old narrow lanes between Beijing's small courtyard houses.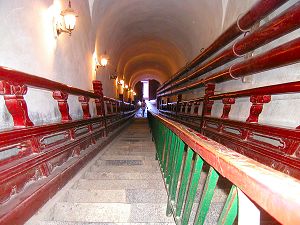 We visited a hutong courtyard where Mr. Wuo, the owner, lived with his family and his children's' families. He was a retired archaeologist and we talked about what we had seen in Xi'an the days before.
In his yard he was growing string beans, pomegranate and grapes, but they would not be ripe till September.
The last stop was Prince Gong's Garden. There were many interesting things to see, such as special rocks, bat decorations, pavilions etc.
In one particular pavilion called the "floating pot", there was a winding waterway cut into the floor and the legend was that a pot of wine would float from the start to the finish. Thus, whoever sat at the end of the tiny stream would always be enriched.
Many poets had used this pavilion to get inspiration.
This ended the tour and after lunch we went shopping for clothing for me and also for a suitcase. I also got a "few" DVDs.
Dinner was at a revolving restaurant at the top of the TV tower, the tallest building in Beijing.
The buffet dinner was not so good but it was great fun to lean up against a window from where you could see some 200 meters straight down to the ground.
Goodnight.