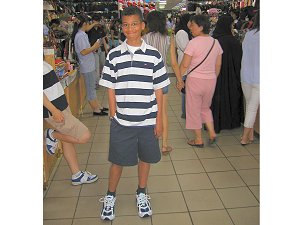 Not exactly a very active day. SK995 touched down in Beijing Int'l Airport on time but immigration lines were exceptionally long. He was however greeted with a bunch of velvety red roses from Liu Jian Ling, his driver for the next month.
Ryan's shoes had not fared well during the Copenhagen sightseeing so after a quick lunch and unpacking we headed for the Pearl Market to buy some new shoes. He got the ones he wanted, which can be seen from his smile in the slideshow.
Now he got "difficult". It turned out that he also would like to have a pair of sneakers with built-in wheels. Fortunately, there is a toy market right next to the Pearl Market and one of the stores had a pair large enough to fit. Could he use them? He certainly managed 2 steps before falling but more practice will be needed before he can imitate the store clerk who willingly demonstrated the technique.
Back to the fish market in the basement of the Pearl Market to buy Mandarin Fish for dinner. Ryan decided also to get some blue crab (to play with and to eat). After dinner it was time to hit the bed to overcome travel tiredness and jet lag (not Ryan though).